Groundbreaking Development: Storage Box, San Antonio, TX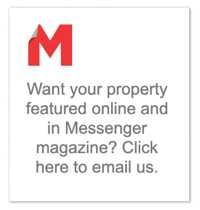 Situated on an L-shaped lot in San Antonio, Texas, Storage Box offers three stories of modern storage space. The contemporary, 123,000-square-foot facility was designed by Dallenbach • Cole Architecture and constructed by Capco General Contracting in approximately nine months.
After selling an adjacent lot, the owner was required to incorporate a sizeable landscape buffer into the site plan to separate the building and parking lot from the residential neighborhood. The proximity of the retaining wall to the property line proved to be a challenge, but the result was a striking site. Metal panels above masonry block bring texture and visual appeal to the façade, while a stripe of bright blue separates those perfectly contrasting materials. The same blue is used to make the exterior roll-up doors and awnings pop and draw attention to the metal geometrical tower at the corner of the building that houses the rental office—a design element that resembles stacked boxes. Neon green roll-up doors on display behind large panes of glass illuminate the floor above the office.
Within the office area, behind a long countertop, digital signage is affixed to an exquisite diamond tile wall. The facility utilizes security features from PTI Security Systems and a hallway system from Janus International.