You see a for sale sign on some property, or maybe inherited a blank tract of land. Possibly you've been tasked to develop a site parcel but the topography presents a few challenges. You see the demand for Self Storage in the area. Well, what's next?
Pre-development site parcel for A Storage Place – Palm Ave.


Architectural rendering for A Storage Place – Palm Ave.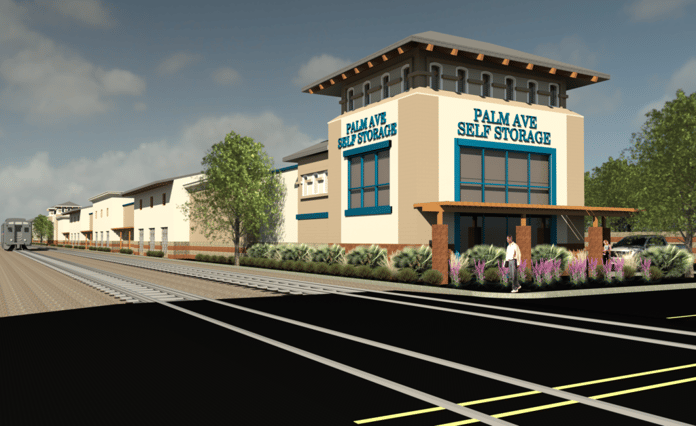 Designing and Developing for a successful ROI
A greater number of units will always make a Self Storage Building project look better on paper. Of course, on paper, you could be tempted to make big assumptions about demand, lease-up, future potential, and be tempted to overbuild. We've had a lot of Self Storage Developers ask, "How many units can I get on my site?" That is a tricky question with many different answers and options. There are some standards in the industry for determining the buildable area of a plot of land but first things first, what is the demand?
Conducting an initial surface study of competition in the area, researching the type of storage in demand, determining the target occupancy rate, and putting together preliminary performa numbers will help aid your decision to move your "idea" of developing a Self Storage facility into a reality.
When getting started, it is important to be diligent and practical with your initial analysis. On paper, you could be tempted to make big assumptions about demand, lease-up and future potential and then be tempted to overbuild. To put it in perspective, if only 25,000 people live within five miles of your site, a 60,000 square foot facility is probably not going to reach capacity. If after conducting this initial research you see the viability of the project, the next step is to consult an industry expert who can perform an in-depth analysis. Contacting a market feasibility expert that specializes in Self Storage to perform a feasibility study is essential. The study will act as your "blue-print" of what you should build and the expected ROI.
Once your Market Study is finalized, the next step is to determine whether the "design" can "fit" on the land identified, taking into account any site constraints. Determining the buildable area of the potential site and marrying it to the market analysis is crucial for success. Market demand may be high but if the site contains zoning issues, extreme grade changes, FAR regulations, setbacks, easements, fire regulations, etc… it can hinder the ability to develop what the market analysis has determined, and therefore the project might not work. "Dot the I's and cross the T's" by reaching out and verifying with the local jurisdiction what can and cannot be built on the land in mind. Ask yourself, "Can I fit what my market analysis shows as a successful ROI on the land I've identified?"
Let's take a look at a successful case study on building a facility with limited space responsibly and economically, A Storage Place – Palm Ave., Riverside, CA.
A Storage Place – Palm Ave., Riverside, CA.
Developed by Frontera Real Estate Investments, lead by Bryan Grissinger and Scott Flaming, the firm purchased the property in late 2019 as an approved site with plans in place. While deemed a viable project, A Storage Place – Palm Ave. is a unique build. It was developed on a 3 acre, long narrow site about 100 feet wide by 1,000 feet long with railroad tracks to the South and single-family residences on the North. A large concern was building within 6" of the neighbors property line but consistent communication in addition with support from the City, ultimately construction was executed smoothly and respectably for all parties.
When looking into the project initially, based on the feasibility analysis, it was noted that in order to achieve a successful ROI, the project was going to need to go vertical unlike the traditional facilities in the surrounding area that consisted of widespread, land dominating, single story buildings. Still the comparable rental rates in the area balanced against the development costs. The option to climate control the multistory structure was considered and eventually the structure was built so that it could be added in the future if the demand became increasingly present. This decision helped facilitate an economical approach to initial construction costs.
During the due diligence stage, the Project Managers considered adjusting the site plan. However, the project would then be subject to the local jurisdiction's newly adopted building code regulations that were passed after the original plan was approved and permitted.
Construction started in early 2020 with Grant General Contractors working with Mako Steel as the metal building contractor, who was able to bring the project to completion in budget and on time. Working with a knowledgeable and experienced builder is essential to the success of a project. Even with all the due diligence performed in advance, if the execution is faulty there can be major problems.
When you are creating your Self Storage Development, the goal is to maximize your Return on Investment. Whether you're building a Self Storage Building facility from the ground up or looking to expand, it's important to understand the market, create a responsible strategy, and contract the right building team.
Reach out to Mako Steel for a custom analysis of your building design. We examine and optimize projects to provide alternatives that can save you time and money. We look forward to hearing from you.
Click Here to Watch Our Informational Video