When you own a self-storage facility, it's easy to become complacent. You're bringing in revenue doing what you're doing, so why change it up? Or, maybe you just don't know how to appropriately raise your rental rates or implement new fees and other pricing strategies. While that might seem fine, there's no denying that it takes money to operate, and the rental rates and fees you charge will help with that financial burden while delivering a better customer experience to your tenants. It's important to continue investing in your self-storage facility to increase property value and make more money. If you're not doing this, you're simply selling yourself short and leaving money on the table. So let's dive into the various ways to make additional revenue in self-storage.
Increasing Revenue through Self-Storage Rental Rates
The biggest source of income for a self-storage owner-operator is through the facility's rental revenue. There are many factors that drive rental rates, such as the demand for self-storage in your area, the type of facility you're offering and the type of units available at your facility. The higher the demand for self-storage in your geographical area, the higher rental rates you're able to charge.
Factors that drive rental rates:
Type of self-storage facility
Location of the self-storage facility
Size of units available
Type of units available
There are additional factors responsible for raising rental rates over time, such as an increase in operational costs, renovations and upgrades. Renovations and upgrades are so important because they increase your property value and allow you to deliver premium offerings to your tenants. You'll quickly learn that people are willing to pay for the increased security, convenience and safety that comes with a regularly updated and maintained facility. When renovating your self-storage facility, nothing should be off the table, so make sure you consult an industry expert who's seen it all and done it all and can help you every step along the way.
Here's an example of a 50,000 square foot facility that added new doors to increase their property value and make additional revenue: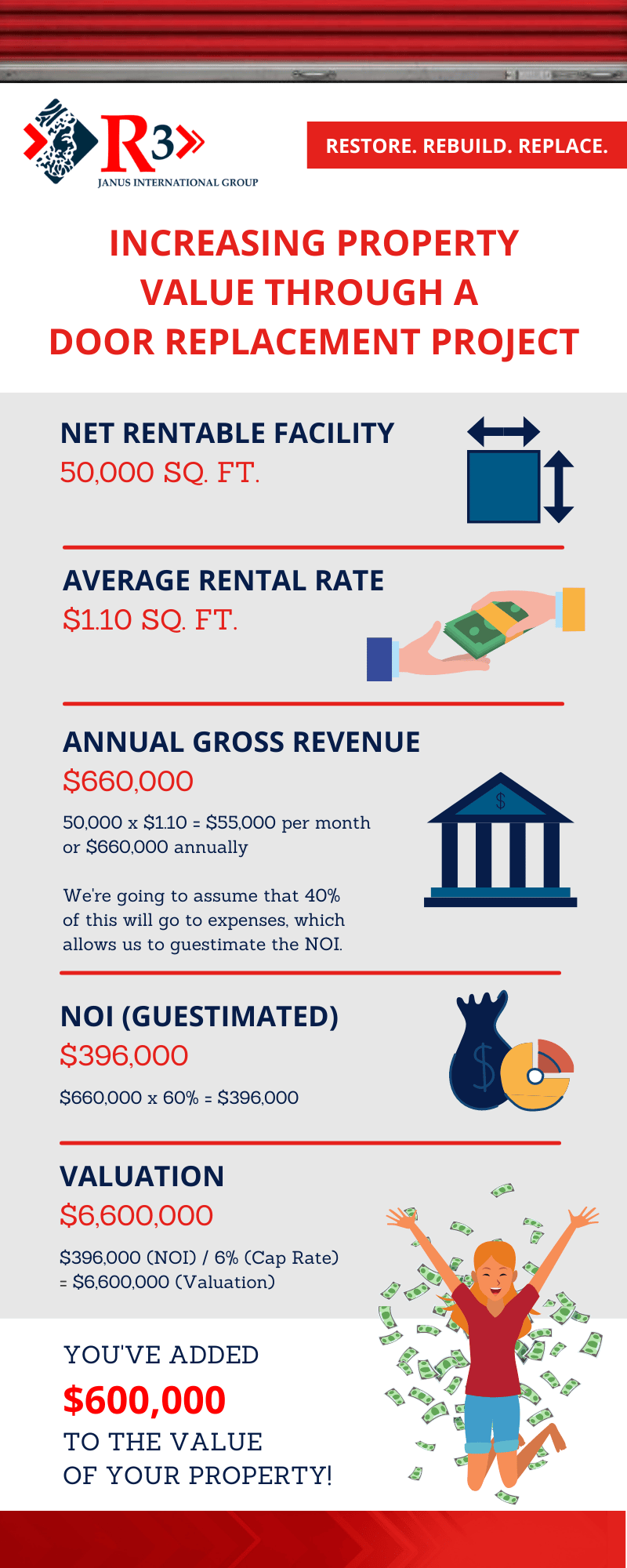 When owner-operators aren't increasing their rental rates over time, they're not making as much revenue as they could or should be. A good rule of thumb is, if you're rented above an 85% occupancy rate, it's time for a bump in your rental rates. While increasing your prices may lead to some shell-shock from tenants, there are different ways to justify a rate increase. Most importantly, it's important to always have a friendly and informative response on hand.
Responses to justify a rate increase:
While you only paid $100 to rent a 10'x10′ unit at your last location, our city has a higher demand for self-storage. Take a look at some of the other facilities in our area, and you'll see that we have a competitive price for our offering.
We just updated our site's security cameras to provide you with a safer experience. Thankfully, this is just a one-time fee.
I wish we didn't have to increase your rental rate, but the costs for operating our business have gone up this year. As a small company, those costs add up and are hard to take on.


Increasing Revenue through Self-Storage Fees
It's important to note that fees are separate from the rental rate quote and that they're there to compensate for specific services needed by individual tenants. Not everyone renting at your self-storage facility may need the same services, making fees appropriate so that you can tailor charges to the specific tenant. For example, you wouldn't charge a tenant who moved out and left their unit completely immaculate a clean-up fee.
Evaluate what fees you're currently charging for. Could they be too low? Are there any fees that you're not currently charging, but should be? The most common fee in self-storage is the administration fee. Typically ranging from $15-$30, this fee is to accommodate the time and expenses associated with administering the lease agreement. There are several other fees you can implement at your self-storage facility to ensure you're protected from unnecessary expenses.
Common Self-Storage Fees:
Administration Fee
After Hour Access Fee
Auction Fee
Chargeback Fee
Clean-Up Fee
Convenience Free
Damage Fee
Early Termination Fee
Key Fob Replacement Fee
Late Fee
Lien Fee
Locksmith Fee
Package Delivery Fee
Paper Invoicing Fee
Security Deposit Fee
Technology Fee
Transfer Fee


Much like an increase in rental rates, fees often generate questions from customers, so make sure you and your staff are prepared with friendly and informative answers. Here are some examples for explaining fees on Inside Self Storage (ISS).
Increasing Revenue through Self-Storage Value Pricing
Ever wonder why the first-row seat is always more expensive? Whether you're in a football stadium or at the Grand Ole Opry, people are willing to pay for the best seat in the house. The same can be said for self-storage. The price of your units can vary based on the demand for the unit. For example, if you have a unit close to the elevator or on the first floor in a multi-story facility, you can charge a higher rental rate because it's more desirable. Tenants want the convenience of accessing their storage units quickly and efficiently, especially when they're carrying items to-and-from their units often. They're also willing to pay for higher quality units, such as climate controlled or units with smart locks or automatic doors.