Hidden Dangers: How E-Bikes & Lithium-ion Batteries Can Start Fires
From fireworks to firearms, many owner-operators prohibit potentially dangerous items from being stored in self storage units. But there are hidden dangers lurking within some seemingly harmless items, such as e-bikes and scooters. These electric micromobility travel devices, designed to create safer streets, more efficient transportation, and greener cities, house lithium-ion batteries, which have been known to start deadly fires; a battery-induced blaze at a Brooklyn self storage facility even sent a firefighter to the hospital just one week ago.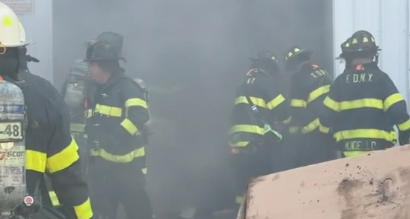 Behind the Battery-Fueled Blazes
What causes e-bikes and other micromobility devices to blow? According to TechCrunch, lithium-ion cells undergo a process called thermal runaway, which results in a sharp increase of battery cell temperature and pressure, accompanied by the release of flammable gas. The flammable gas can ignite from the battery's high temperature, resulting in a quick fire that's hard to put out and emits toxic fumes.
While some e-bikes and scooters are considered safe, cheap versions with low-quality batteries, often imported from China, are more likely to explode due to a lower-quality manufacturing process that results in defects. "You have to remember, you get what you pay for," says Leo Raudys, president and CEO of Call2Recycle, a nonprofit battery-recycling program. "These batteries are highly engineered devices, and if you're only spending a couple hundred bucks on a battery, you're probably getting one that's cutting corners in a number of different places."
In New York City, where food delivery by workers on e-bikes is the norm, e-bike-related fires have been skyrocketing, doubling each year from 2020 to 2022, according to Fire Department of New York data. As of July 3, 2023, there have been 114 investigations into lithium-ion fires, 74 injuries, and 13 deaths. A fire in June at an e-bike store resulted in the death of four people, and one week later, as part of the FDNY's crackdown on illegal batteries, dozens of lithium-ion batteries that were damaged or being charged on overloaded power strips were found at a different store, which the department described as a "ticking time bomb."
Self storage facilities can also be victims. On October 22, at a Stop & Stor self storage facility in Sunset Park, Brooklyn, firefighters battled a blaze inside storage facility units where hundreds of e-bikes and other mobility devices were being stored. Fire officials said that although the sprinkler system was working, the fire was too overwhelming to be stopped. The blaze even sent one firefighter to the hospital for smoke inhalation.
"When fire suppression systems were designed a long time ago, no one had the bikes or batteries in mind," said FDNY Assistant Chief Michael V. Meyers. "So what happens is this fire suppression system, they're not designed to put out enough water, the copious amount of water, it takes to put out the batteries or any kind of electrical fire."
E-Bike Battery Government Action
To help reduce the incidence of e-bike and other lithium-ion battery fires, a number of bills have been introduced to Congress. One new bill, called the Import Security and Fairness Act, would limit the import of unregulated e-bikes and batteries into the U.S., and strike the provision that allows for products under $800 – the type of bike that's more likely to have an uncertified battery or a poor battery management system – to go unchecked.
Another proposed bill, introduced to the Senate in March, would require the Consumer Product Safety Commission to establish a final consumer product safety standard for e-bikes and e-scooters to protect against the risk of fires.
Policymakers are also introducing bills that would provide Americans with a federal rebate of up to $1,500 toward the purchase of an e-bike. If passed, this bill could help make quality e-bikes more accessible to lower-income Americans. The bills would make only e-bikes with UL-certified batteries, or equivalently certified batteries, eligible for tax credits.
Self Storage E-Bike Safety
Banning e-bikes from your storage facility may seem like an obvious solution. However, this could result in a loss of business, especially where this transportation method is popular. If you choose to allow e-bike storage, consider only allowing equipment with a UL mark to be stored. This mark states that the product, including battery, motor, and charger, have been safety tested and certified. This goes for anything with lithium-ion batteries, not just electric micromobility vehicles. Here's a look at common UL marks.
You can also provide tenants storing e-bikes and other lithium-ion charging products with safety guidelines. Some pointers include:
Only use the manufacturer's cord and power adapter.
Never use extension cords or power strips for charging (they change the level of electrical resistance).
Don't overcharge devices (keep them between 10% and 80% if possible).
Don't keep batteries in direct sunlight.
If you've been out and about on your e-bike, wait for batteries to revert to room temperature before charging.
If your battery gets wet, wait until it is dry before charging.
Don't ride e-bikes in temperatures below -5

°

F.
Don't throw out old batteries; go to a

participating bike shop

for recycling.
When buying a used e-bike, have a reputable e-bike shop check the

battery health

.
If anyone at your facility reports a strange smell or odd noise, which is common when a lithium-ion battery is overheating, be sure to take action and/or call for fire/police.
Ultimately, just as with gun storage, it is up to you as the facility owner-operator to determine which items you will allow in storage. The growing popularity of e-bikes and other lithium-ion battery-fueled items means you may not want to outright ban them, however you want to be sure they are stored safely. By asking tenants to follow these guidelines and looking out for UL certification marks, you can keep the e-bike business and your business safer.
–
Brad Hadfield is a staff writer and news researcher for Messenger magazine. He also manages the Modern Storage Media website.