3D Printing in Self Storage: Parts, Prototypes & Properties
Could your next self-storage facility be printed? It could be the next big industry trend. After all, dozens of 3D-printed homes already exist, and the world's largest community of them is currently being built in Texas. This Lone Star neighborhood, just 30 miles north of Austin, will boast about 100 3D-printed homes. In July, buyers got a first look during the project's grand opening event, and a spokesperson for ICON, a construction firm involved in the creation of the unique development, says some homes have already been sold. It's reasonable to assume that self-storage facilities, which are sometimes nothing more than buildings with empty rooms, will be the next.
History Of 3D Printing
3D printers work much like inkjet printers, but instead of using ink, 3D printers deposit the desired material in a series of successive layers to create an object from a digital format (this is why it is also known as additive manufacturing, as in "materials being added together").
3D printing's roots can be traced back to scientific think pieces of the 1960s and 70s, however the technology wouldn't become a reality until 1983, when American engineer Chuck Hull developed the first 3D-printing technology called stereolithography (SLA). This process uses a UV laser to solidify thin layers of photopolymer resin, one at a time.
Throughout the 1980s and 1990s, other 3D-printing technologies emerged, allowing designs to be printed from a wider variety of materials, including plastics and metals. In the early 2000s, 3D printing began to gain popularity in various industries, from aerospace to health care.
The rapid prototyping and customization capabilities of 3D printing led to the creation of prosthetics and architectural models, including homes. Which home is considered the "first" 3D-printed abode is disputed, although those in consideration for the title arrived in the mid-2010s. The first 3D-printed commercial building, however, is undisputed, and was achieved by Dubai Future Foundation, in Dubai, UAE, on Feb. 20, 2020.
3D-printed Parts And Prototypes
The self-storage industry is no stranger to 3D printing, with many developers and suppliers taking advantage of the technology. One company supplying the self-storage industry with 3D-printed parts is Nexus3. Headquartered in Phoenix, Ariz., the company opened its doors in 2020, providing engineering and manufacturing services for the aerospace, automotive, medical, industrial, construction, and consumer markets. Nexus3 offers two types of 3D-printing services to help clients make their ideas and their needs a reality:
FDM Printing, or fused filament fabrication, which uses melted plastic filaments to create objects layer by layer.
MSLA, or masked stereolithography, a more adaptable and less expensive version of the aforementioned SLA process.
"The technology was already growing in popularity, and then the pandemic hit, causing many supply chain issues," explains Marc Syrkel, owner and president of Nexus3. "This really accelerated the growth of 3D printing. People couldn't get the parts they needed, so they came to us and had them printed."
Syrkel says that some clients come to Nexus3 out of necessity when they need obsolete or difficult-to-get parts for repairs and maintenance. "If a part no longer exists, we simply reverse engineer it. For clients, it's much more cost-effective to get an obsolete component printed than replace an entire structure."
Of course, many Nexus3 clients simply prefer 3D printing over traditional manufacturing. "It's just easier for them," says Syrkel. "We create a digital file, get approval, and then get the job done, often in a day or less."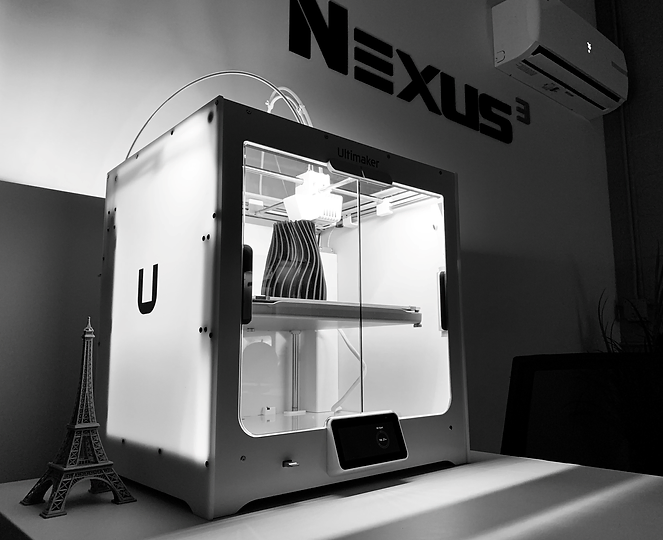 Nexus3 prototyping printer
When it comes to self-storage, Syrkel says the company does a lot of tooling for suppliers. "We design and print equipment that's needed for specific projects," he says. "A supplier may need a tool to remove dents from doors, for example."
Nexus3 counts Janus International as one of their clients within the self-storage space. "They'll have us create plugs, specifically designed to cover holes in columns for doors," says Syrkel. "We also do a lot of prototyping for developers and entrepreneurs within the industry. A big advantage of using our technology for these types of projects is speed to market. Whether the prototype is simple or complex, it's much quicker to test a design, remodel it, and change any faults using 3D printing."
While Nexus3 isn't printing entire facilities, they can create much larger architectural models. "It's just a matter of printing separate pieces and then assembling them together," he says, matter-of-factly, as if it were as simple as snapping together Lego blocks.
3D-Printed Facilities
So, will 3D-printed self-storage facilities be next? It's already happening. MRB Robotics LLC, based in Princeton, Texas, has already been using 3D concrete printing technology to build homes and is now moving into the commercial realm, constructing a 14-unit self-storage facility in the Lone Star State.
According to the company website, the facility will be a 14-unit property with two 25-by-10 units, eight 10-by-8 units, and four 6-by-10 units. Here is a look at the work in progress courtesy of MRB: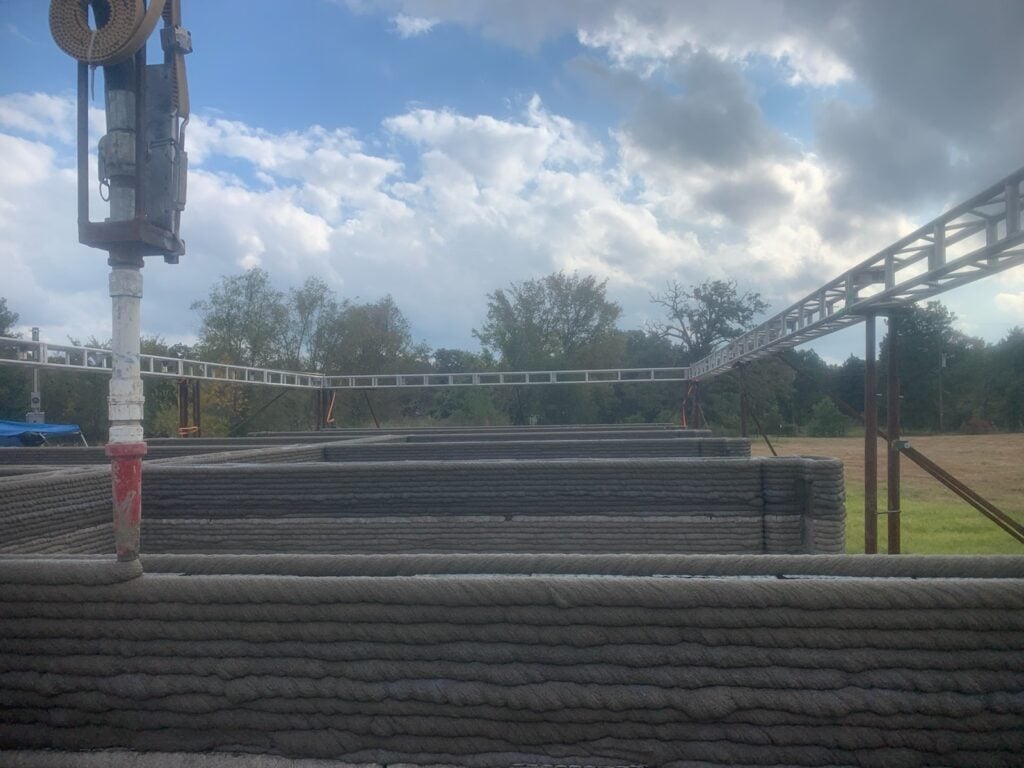 MRB's Texas-based self-storage facility being printed
Other 3D-printing companies could follow suit when it comes to self-storage. Apis Cor, a construction technology company headquartered in Melbourne, Fla., that specializes in concrete 3D printers and robots, has been employed for commercial buildings overseas in Dubai and within the United States in Texas and Missouri. The company reports that building speed using their proprietary concrete 3D printers and robots is three times faster than traditional construction methods.
Even still, the technology continues to evolve, and now it's going green. The world's first 100 percent bio-based 3D-printed home, called BioHome3D, was just built in Maine using wood flour and fine sawdust mixed with a binder made from corn. As a result, the house is fully recyclable with 100 percent wood insulation. As more consumers begin making purchase decisions based on sustainability, bio-based buildings could also benefit self-storage operators.
"3D printing is the future of manufacturing," concludes Syrkel. "I see no reason why it couldn't be adapted on a larger scale within the self-storage industry. If we can build complex homes, we can build simple self-storage facilities which don't even have to be designed to be habitable."
–
Brad Hadfield is the news writer for Modern Storage Media. He also manages the Modern Storage Media website.