So you've decided to use relocatable units to grow your business – great! You'll find relocatables to be a long-term solution that's also quick and easy to install.
Perhaps you're adding them to the dead zones within an existing facility. Or, maybe, you're flipping a vacant lot into a brand new business. Either way, relocatable storage units offer flexible, durable, and customizable solutions.
But what about those customizable features? Do you know what product best suits your needs?
There are important distinctions to consider when designing your made-to-order units. This article will walk you through a few common customizations. Weigh the benefits of each option, and build your ideal mobile units with confidence.
Choosing the right kind of door comes down to a few important factors.

Let's look at roll up doors first.
Roll up doors have long been the self-storage industry standard. Owner/operators are generally pleased with their simple, low maintenance design.
Clients have come to expect them, too. Rows of brightly-colored roll up doors make a facility easy to spot from the road.
The design of a roll up door promotes maximum airflow. This allows the unit to "breathe" – moisture stays out while fresh air moves in.
Compare this to the swing door.
As far as industry standards go, swing doors are to portable storage what roll ups are to self-storage. They're durable and rigid – well equipped for continual transport.
Portable storage owners enjoy the sealed and gasketed design of a swing door. They're fully weather, wind, pest, and dust proof. While this is necessary on the road, self-storage businesses enjoy this level of protection, too.
There are a number of reasons a self-storage owner may prefer swing doors on their mobile units. They may decide on a hybrid portable/self-storage business model. Or perhaps they favor a tight seal over max breathability.
When opting for swing door units, ensure your vendor puts proper ventilation methods in place. Wall vents, raised floors, and anti-condensation spray will all help regulate the internal climate.
Let's move on to another custom option – the finishing treatment of the base, roof, corner guards, and internal frame.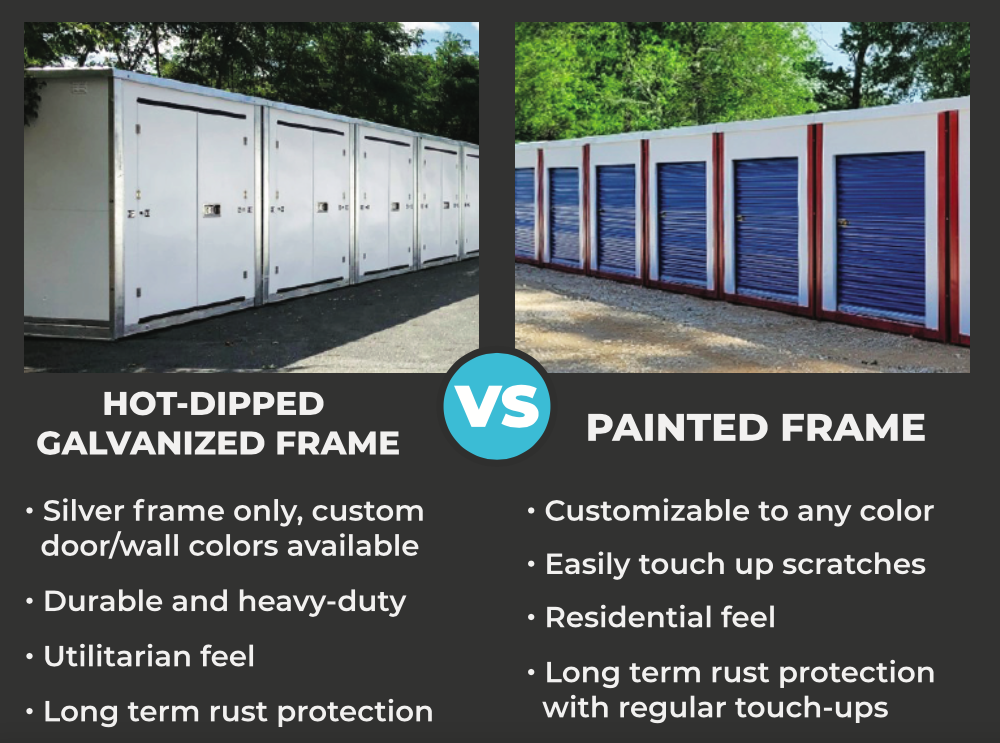 Hot-dipped galvanization is the process of dunking steel into molten zinc.
When this thick coating is applied, the steel becomes fortified from the elements. This strengthens the frame by combating harsh weather, scratches, road salt, and moisture.
The pros of a hot-dipped galvanized unit are clear. Your units will be rust resistant, extra strong, and easy to maintain for decades. Some owners hesitate, though, due to the utilitarian look of hot-dipped steel.
Or, use paint to protect your units.
More often in the self-storage industry, owners use paint to seal their steel. Paint is cheaper, comes in any color, and is easy to touch up.
We have found storage owners want their relocatables to match existing buildings. With paint, this is easy to achieve.
If opting to paint your units, be sure to keep a regular maintenance routine. Any scratches, dings, or blemishes that gouge down to the steel are prone to rust. To avoid rust, check your units often and keep touch-up paint on hand.
The final selection we will review is flooring.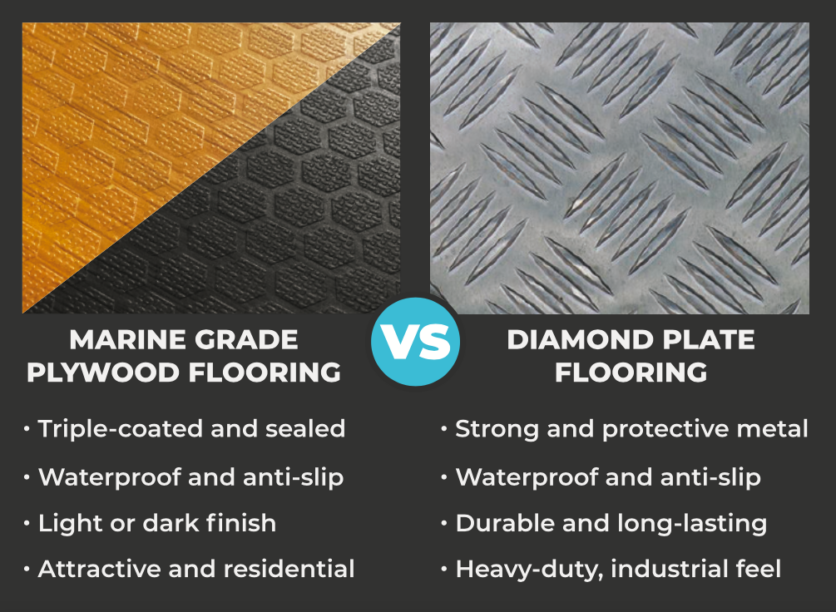 Marine-grade plywood (3/4") is the stock flooring option. Coated and sealed, this flooring is non-slip, non-odorous, and waterproof.
The floor component sits atop the base, and thus, does not touch the ground. This ensures 360 degrees of dry, protected flooring.
Plywood floors are a quality base option, but there is a potential for scratches with repeated and heavy use.
For added protection, upgrade to diamond plate flooring.
Diamond plate flooring – a durable material designed to withstand commercial use. The raised pattern ensures a safe, anti-slip surface.
The proper flooring choice is up to you. Most self-storage owners find marine-grade plywood to be adequate. Others prefer the added protection of diamond plate. Decision-making factors to consider include intended use and cost.