Have you ever been faced with the seemingly impossible, but the outcome turned out way better than you could've ever imagined? That's exactly what happened to StorSafe Self Storage when they decided to convert a 4-story, 100,000-square-foot, century-old loft building into 70,000 rentable square feet of climate-controlled self-storage. The building was accompanied by a large parking lot under the expressway that was unfit for permanent structures. That's when StorSafe turned to MASS relocatable storage units.
The biggest advantage of partnering with Janus and using their MASS units was their design team followed by their very talented and experienced field staff. They helped us maximize every square foot possible. The project itself is really very nice. It looks no different than traditional self-storage units on a foundation. – James J. Sayegh, Principal and CDO of Elmdale Partners, LLC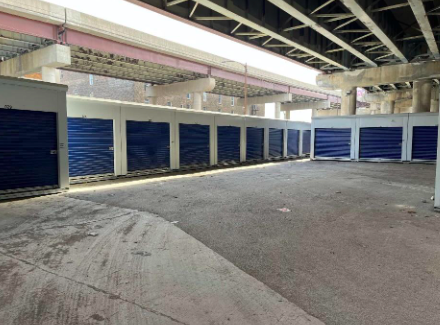 Challenge: StorSafe had a large parking lot tucked under the expressway and the Illinois Department of Transportation prohibited permanent structures from being constructed
Located in Chicago's trendy Pilsen neighborhood, StorSafe knew they could achieve high absorption rates if they filled their excess land with self-storage units. When they found out from the Illinois Department of Transportation (IDOT) that permanent structures weren't an option, they turned to MASS relocatable storage units by Janus International. These portable units are constructed of the same durable components as a traditional self-storage, so they deliver the same looks and benefits. The difference? They're constructed on a platform and are easily movable using a 5,000-pound forklift with extended forks.
Solution: Moveable Additional Storage Structures (MASS)
With the heavy-timber loft building going from an office space that required a lot of parking to a self-storage space that didn't, the parking lot became "excess land". MASS units helped StorSafe best use the parking lot while remaining sensitive to the IDOT requirement of not having permanent structures constructed under the expressway.
StorSafe installed 61 MASS relocatable storage units. These portable units work in all kinds of situations and are a great way to quickly generate additional revenue for your facility. They have a variety of advantages such as being classified as equipment (often helping you bypass lengthy permitting and zoning requirements) and being allowed in many places where permanent structures are prohibited.
Results: 12,800 Square Feet of Additional Revenue
After opening in March of 2022, StorSafe Self Storage says their MASS units are being consumed at a very good absorption rate. With 12,800 added square feet of additional rentable storage space, the MASS units have been a great return on investment for StorSafe Self Storage, each month generating an additional $17,000 of GPR.
In our case, the ROI calculation is obvious because the alternative would be getting nothing for a massive piece of land in our control. On a project basis, the 12,800 square feet of additional revenue makes a significant impact on our bottom line.
Check out the rest of their self-storage conversion!
In the old office building, StorSafe Self Storage installed climate-controlled units and lockers: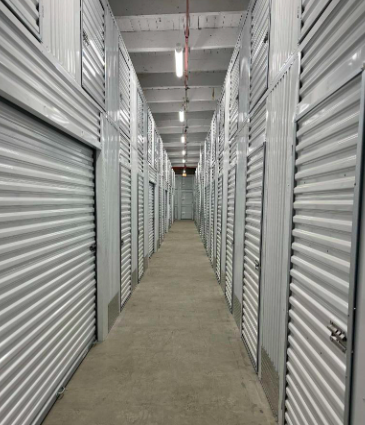 How do you know portable storage is right for you?
Whether you have land that is unused, underused, or not yet suitable for permanent construction, MASS relocatable storage units can help you save time and money while avoiding the inconvenience of traditional ground-up construction.
Ready to optimize your space and maximize revenue? To learn about the features and benefits of MASS, including what makes them such a smart money move, click here.